Event : Expand North Star 2023, October 15 - 28, 2023, Dubai Harbour, UAE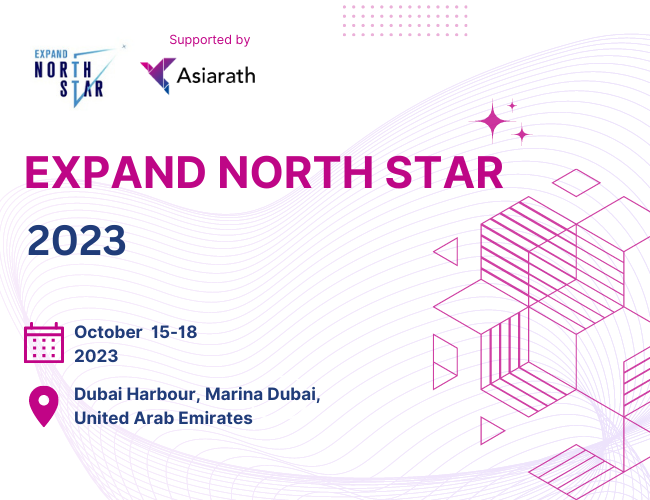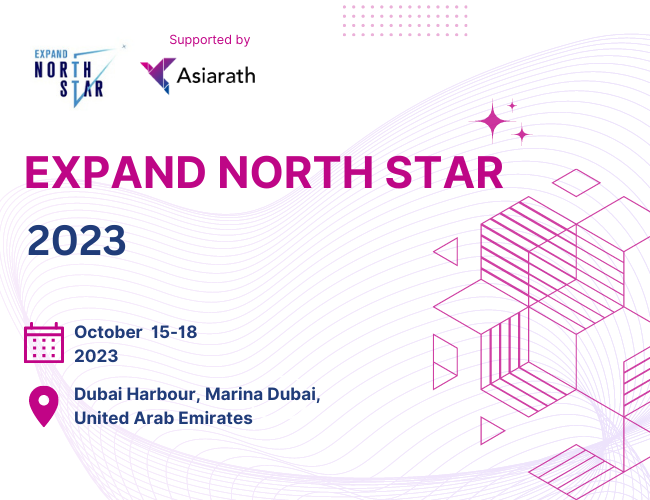 Expand your business with our partnership initiative with North Star. Here's all you need to know.
Asiarath is a start-up accelerator that helps entrepreneurs build their businesses. We work with founders to develop their ideas and get them to market faster, while also providing access to investors and other resources.
We've been running our flagship program in Dubai since 2016, but we're now expanding it across the UAE and beyond. Expand North Star will be a new initiative focused on helping entrepreneurs grow their businesses in Abu Dhabi and surrounding areas like Al Ain, Al Gharbia (Western Region) and Northern Emirates including Ras Al Khaimah, Fujairah & Umm Al Quwain
Growth of the Start-up Industry
The growth of the start-up industry in the UAE has been unprecedented, with over $1 billion invested into local ventures in 2018 alone. This is a testament to how much international interest there is for this sector and what it can achieve for our economy. The Emirates Investment Authority (EIA) has set aside $5 billion for investments in start-ups, while other government bodies have also made significant commitments towards supporting this sector.
The UAE's leadership has recognized that innovation and entrepreneurship are key drivers of economic growth and prosperity; they've identified these areas as priorities for their vision 2030 plan which aims to make Dubai one of the most innovative cities in the world by 2021.
Dubai World Trade Centre (DWTC)
Dubai World Trade Centre (DWTC) is a hub for business and entrepreneurship. It provides opportunities and resources for start-ups to grow and thrive as they take their first steps in the market. DWTC offers a variety of programs that support startups at all stages, from ideation to scaling up operations.
The centre has also partnered with various organizations such as NASDAQ Dubai, Dubai Healthcare City Authority (DHCA), Dubai Smart Government Office (DSGO), Dubai Technology Entrepreneurship Center (DTEC) etc., which will help entrepreneurs gain access to global networks of investors and mentors as well as provide them with knowledge about latest trends in technology innovation across industries like healthcare, education etc.
Expand North Star
Expand North Star is a three-day event that brings together the most influential tech leaders, venture capitalists, unicorns and scale-ups from across the region. It will explore how to build an ecosystem for start-ups in the UAE with key stakeholders including investors, corporates and government entities.
The format of Expand North Star is designed to be highly engaging while providing attendees with actionable insights into building their own ecosystems as well as opportunities to connect with like-minded people who share their passion for innovation and entrepreneurship.
Benefits of Expand North Star
Connections: The Expand North Star community is comprised of entrepreneurs, investors and industry experts. Through our events you will be able to connect with like-minded people who can help you grow your business.
Resources: At Expand North Star we aim to provide you with the information and tools necessary for success in your start-up journey. We regularly organize workshops where you can learn about topics such as funding or marketing strategies from experienced speakers in those fields.
Opportunities:Our goal is to help build a thriving ecosystem in Abu Dhabi by providing support for startups through partnerships with organizations such as the UAE Federal Government's Ministry of Finance (MoF), Etihad Airways – an airline company based out of Abu Dhabi -and other government entities; as well as private sector companies like Mubadala Investment Company (MICO), which is one of the largest sovereign wealth funds in the world."
Join us at Expand North Star 2023, the ultimate hub for startups and investors.
As a partner of North Star, Asiarath is excited to extend promotional prices for exhibiting at this year's event.
What can you expect from Expand North Star 2023?
Showcase your products with customized booth designs, connect with investors, attend workshops delivered by industry experts, network with peers, and gain media exposure.
Eligibility criteria:
Early-stage startups, developing innovative products or services, with scalability potential and a strong team possessing diverse skill sets and relevant experience. Startups should also be open to learning and networking opportunities.
Don't miss out on this game-changing opportunity for your startup.
Register your interest today and take advantage of promotional prices.
We look forward to seeing you at Expand North Star 2023!
To learn more and register,
visit https://p47ck3k9wx2.typeform.com/to/NHwgLV6h.